On Thursday 28th March 2019, the Office of National Drug and Money Laundering Control Policy (ONDCP) together with officers from the Customs and Excise Enforcement Department and the K9 Unit of the Royal Police Force Antigua & Barbuda were on a joint patrol on the southern side of the Island. While in the vicinity of Urlings Wharf, officers observed an individual acting suspiciously. As officers approached the individual, he ran and disappeared into the mangrove. While in pursuit, officers discovered several crocus bags scattered around the swampy area on the eastern side of the wharf.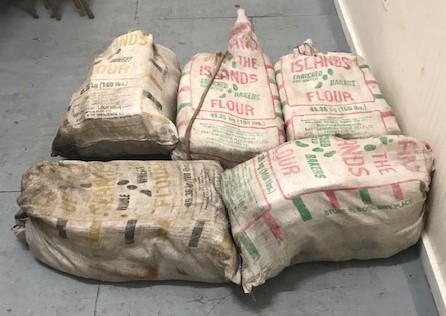 The crocus bags contained 123 brick-like packages of the controlled substance cocaine, weighing approximately 142 Kgs.  The substance carries an estimated wholesale value of Four Million, Nine Hundred and Eighty Thousand Dollars (EC $4,980,000) or One Million Eight Hundred Forty-six Thousand Dollars ($1,846,000 USD).
Investigations are continuing.