The Office of National Drug and Money Laundering Control Policy (ONDCP) has published the Antigua and Barbuda Secondary Schools Drug Prevalence Survey 2013 Report on its website.
The report, which relies on data that was collected through the use of standardized surveys among secondary school students in Antigua and Barbuda. The report provides statistics about the patterns of drug use among local secondary school students, the most widely consumed substances, access to drugs, perception of harm, and harmful use of drugs among other results. The survey was a collaborative effort between Inter American Drug Abuse Control Commission of the Organisation of American States (OAS/CICAD), The Substance Abuse Prevention Division and The Ministry of Education. The target population comprised all students in Forms 2, 4 and 5 in secondary schools in Antigua and Barbuda.
In total 851 students (422 (49.5%) males to 417 (49.1%) females) in 9 government and 3 private secondary schools completed the self-administered questionnaire.
The report reveals that alcohol and marijuana are the choice drugs among the secondary school students and that just under a quarter (21.1%) would try an illicit substance if given the opportunity. The figures revealed in the report show that students have reported consuming alcohol, tobacco and/or other drugs from as early as 5 years old. The survey found that although overall, the prevalence of substance use has increased in 2013 when compared to 2002 and 2005 this has been relatively small for most. While there has been a reduction in the lifetime prevalence of alcohol use from 73.4% in 2005 to 71.1% in 2013, the past year and past month prevalence increased from 53% in 2005 to 56.0% in 2013, and from 32.6% in 2005 to 36.2% in 2013 respectively. The life time prevalence of marijuana use also rose from 25.1% in 2005 to 31.0% in 2013, the past year prevalence rose from 13.6% in 2005 to 22.4% in 2013 and the past month prevalence practically doubled from 8.5% in 2005 to 16.7% in 2013.
The figure below provides an illustration of the prevalence of the other illicit drugs.  Comparison of Lifetime prevalence (2005 & 2013)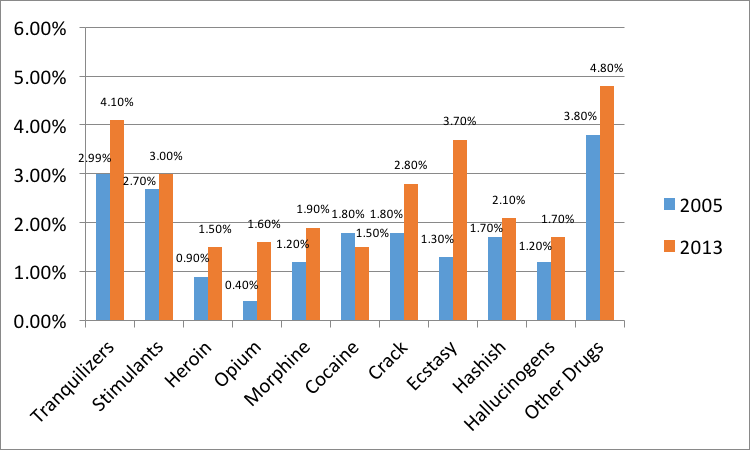 More males (58.4%) than females (41.6%) reported having used marijuana. Just over half of the students (51.1%) considered marijuana to be quite easy to get and just under a third (31.4%) said that they had gotten it from a friend.